Love Live! Sunshine!!
Uranohoshi Girls' High School, a private school in the seaside neighborhood of Uchiura at Numazu city, Shizuoka prefecture.
A small high school in a corner of Suruga Bay, it is home to nine teens, led by second-year student Chika Takami, driven by one seriously big dream: To become the next generation of bright, sparkling "school idols"!
As long as we don't give up, any dream can come true… All we have to do now is keep pushing hard for fame and glory!
Now their "School Idol Project" begins to make their dreams come true!
2.   Berserk
Guts  is a wandering mercenary who is taken in by the mercenary group the "Band of the Hawk" (鷹の団 Taka no Dan) after being swiftly defeated by its leader Griffith, and soon becomes his right-hand man while making a name as the group's renowned raid leader. Shortly afterwards during an encounter with a monstrous man known as Nosferatu Zodd who defeats both Guts and Griffith, Zodd notices the Crimson Behelit in Griffith's possession; a trinket in the shape of a face, and leaves promptly, warning Guts that his continued friendship with Griffith will result in his death.
The Hawks play a pivotal role in ending the 100-year war that has ravaged the country of Midland and are initially welcomed as heroes, but Griffith's aspirations to rule his own kingdom are shattered when Guts leaves the Hawks to find his own dream. Unable to cope with the loss, Griffith seduces the King's daughter Charlotte but is caught and ends up in the dungeon for a year. By the time Guts learns of this and helps the outlawed remnants of the Hawks rescue him, Griffith has been horribly mutilated and rendered a mute shadow of his former self.
The weight of knowing his body is too damaged for him to fulfill his dreams proves too much for Griffith and he accidentally activates the behelit on his person. This brings the Hawks to another plane where they encounter archdemons known as the God Hand in a ceremony known as "the Eclipse". Urged onward by the eldritch beings, Griffith sacrifices his soldiers to the demons, called "God Hand's apostles"—humans like Zodd who sacrificed their loved ones and humanity for power—so that he can become the God Hand's fifth and final member, taking the name Femto.
Branded, Guts witnesses the brutal slaughter of his comrades, though he and his lover Casca are saved from certain death by the mysterious Skull Knight. Guts loses an arm and an eye while Casca is driven insane after being raped by the reborn Griffith. Leaving Casca in the care of Rickert, a survivor of the Band of the Hawk who was not spirited into Astral Plane, and the blacksmith Godo, Guts begins hunting down Apostles in search of revenge against Griffith, though his Brand of Sacrifice makes him a target for restless spirits that hunt him nightly.
Years after beginning his journey, Guts is joined by the elf Puck whose company he eventually accepts. Guts is later reunited with Casca as she is about to be burned as a witch in the city of St. Albion. There, encountering Farnese of the Holy See Church's Holy Iron Chain Knights, Guts endures a nightmarish ordeal that ends in Griffith's physical form restored. As Guts takes Casca to the Elven realm of Elfhelm for sanctuary with the help of his new companions, Griffith creates a second Band of the Hawk with Zodd and other Apostles among its ranks to battle the invading Kushan army. The war between Griffith and the Kushan emperor, a rogue apostle, climaxes with the emperor's destruction and the overlapping of the mortal realm and the supernatural. No longer challenged by demon or man, Griffith establishes his rule over Midland with the endorsement of the Pope and Princess Charlotte, creating the city of Falconia to provide the Midlanders with refuge from the ever-increasing attacks of mythical beasts, unaware their new ruler is actually one of them.
3.   Amanchu!
ikari Kohinata is a cheerful 15-year-old girl who lives near the ocean and she spends much of her time diving as a result. On her first day of high school, she meets a teacher who also likes scuba diving. There's also a 16-year-old classmate, Futaba, who gets dragged along in Hikari's maelstrom as soon as they meet at school. Most of the manga so far details the relationship between the two girls, which quickly seems to move into romantic two girl friendship-territory.
4. Masou Gakuen HxH
Hida Kizuna possesses the HHG (Heart Hybrid Gear) ability, but it is not strong enough to make him particularly important. His older sister calls him to transfer to a strategic defense school, where many of the students (many of which are large-breasted girls) use their HHG abilities to fight invaders from another world while wearing extremely skimpy pilot outfits. Kizuna's fighting ability doesn't measure up, but his sister has another plan—apparently having erotic experiences with Kizuna will allow the girls to replenish their energy or power-up. It looks like his new school life is going to be full of embarrassment.
5.  Servamp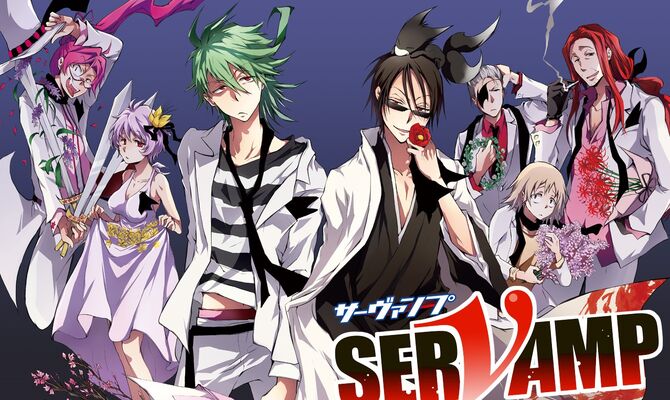 The story revolves around a 16-year-old boy (15 at the beginning of the story) named Mahiru Shirota who likes simple things and dislikes difficult things. One day, he picks up a stray black cat he finds in the middle of the road and gives it the name Kuro (which literally translates into "black"). From this moment on, a contract between the servamp Sleepy Ash and Mahiru is formed, and Mahiru is pulled into the Servamp war between the seven deadly Servamps and their eighth sibling Tsubaki.
6.  Orange
One day, Naho Takamiya receives a letter written to herself from ten years in the future. As Naho reads on, the letter recites the exact events of the day, including the transfer of a new student into her class named Kakeru Naruse.
The Naho from ten years later repeatedly states that she has many regrets, and she wants to fix these by making sure the Naho from the past can make the right decisions—especially regarding Kakeru. What's more shocking is that she discovers that ten years later, Kakeru will no longer be with them. Future Naho asks her to watch over him closely.
7.  Amaama to Inazuma
Kouhei Inuzuka is a teacher who has been caring for his little daughter on his own since his wife's death. He's no good at cooking, so he and his daughter Tsumugi have been eating packaged meals from the convenience store. A series of events lead him one evening to a restaurant run by the mother of one of his students, Kotori. Her mother isn't there, but Kotori does her best to feed them both. It turns out Kotori is often alone since her parents are divorced and her mother is frequently not around. The three of them begin to meet and cook tasty food together.
8. The Morose Mononokean
Ashiya has spent the first seven days of high school stuck in the infirmary because of a youkai attaching itself to him. He ends up asking the owner of a small tea room called the "Mononokean" for help. This is a tale involving the very morose owner of Mononokean guiding the youkai that happened to wander into this world go to the next world.
9.   Alderamin on the Sky
At war with the adjacent Kioka Republic, the Katjvarna Empire.
In that region, due to certain circumstances, there was a certain youth unwillingly preparing to take the High Grade Military Officer Exam. His name, Ikta. Disliker of war, lazy, admirer of women.
No one predicted that that kind of Ikta would later on become a soldier referred to even as a great commander…
He who survived a world embroiled in war with his superior genius, Ikta. Illustrating his dynamic, dramatic life, a splendid fantasy military history, the curtain is raised at last!
10.  Kono Bijutsubu ni wa Mondai ga Aru!
Kono Bijutsubu ni wa Mondai ga Aru! focuses on an art club in a certain middle school, and its members: Subaru Uchimaki, who is a genius at drawing faces, but only wants to draw the perfect 2D wife; Colette, a rich troublemaker who never stops making mischief; and the club president, who sleeps through sessions and collects sleeping aids. Mizuki Usami is the only person in the club who wants to do art club-like activities, and constantly struggles to do so.
11.   OZMAFIA!!
Fuka is thrown into an unknown land with no memory of her past. Not long after that, a strange silver-haired man suddenly points a sword at her, and the whole town is running about trying to escape. When the heroine is resigned to the prospect she is about to be killed, a helping hand is extended to her by…?
12.  Tales of Zestiria the X
Sorey is a human youth who grew up among the seraphim, spiritual beings not visible to humans. Sorey believes in the folklore that says "long ago, every human was able to see the seraphim" and dreams of unraveling the ancient mystery to make the world a place where people and seraphim can live together in peace.
One day, Sorey visits the human capital for the very first time. He becomes embroiled in an incident during which he pulls out a holy sword embedded in a rock and ends up becoming a Shepherd, one who casts away calamity from the world. He begins to realize the gravity of his mission, and his dream of coexistence between mankind and the seraphim becomes more intense—
And thus, the Shepherd embarks on an amazing journey with his companions.
13. TABOO TATTOO
Seigi, a martial arts trained middle schooler, often feels driven to protect the weaker people around him. One day, he defends a homeless man against some punks, and the man gives him a strange tattoo on his palm in return. The tattoo is a secret weapon produced in the arms race between America and the Serinistan Kingdom.
Seigi finds himself in over his head when a powerful girl, using the same secret weapon, violently pursues him in order to retrieve it. His skill at martial arts may not be enough to keep him alive, but will he be able to learn how to trigger the power of his tattoo in time?
14.  91 Days
The time is 1920, five years after National Prohibition Law took place at a city called Lorel in the United States. Main character Avilo arrives to join the Vampiro family mafia undercover in order to seek revenge of killers who killed his parents and brother in this mafia. A Killing starts kills. Revenge starts new revenge. A story of vengeance and sorrow starts now.
15. Mob Psycho 100
Kageyama Shigeo is an average middle school boy, called Mob (モブ means John Doe) for lacking a sense of presence. He is also credited as Salt Middle School's urabanchou known as White T Poison. Although he seems like an inconspicuous person, he is in fact a powerful Esper. As he grows older, Mob realizes his psychic power is dangerous. To avoid his power getting out of control, he constantly lives a life under emotional shackle. Mob wants to live just like others, but a barrage of trouble comes to him. With the suppressed emotions growing inside Mob little by little, his power threatens to spill over its bounds.
16.  The Three Sacred Stars
Sisters Yui and Rena live a peaceful life in the kingdom of Enastoria, but they become involved in a vortex of destiny when a giant robot attacks Enastoria.
17. Ange Vierge
The story of the card game follows what happens when "Hairou" portals suddenly open, fusing three different worlds together. As a result, various mysterious "Exceed" powers are awakened in teenaged girls. An academy for these so-called "Progress" girls is built on the isolated Seiran Island in the Pacific.
18. Cheer Danshi!!
The story revolves around the "slightly odd and cute" members of a cheerleading squad at a men's university.
19. ReLIFE
The story follows Kaizaki Arata, a 27-year-old jobless man, who fails at every job interview he had after quitting his last company. His life changes after he met Yoake Ryou of the ReLife Research Institute, who offered him a drug that can change his appearance to 17-years-old and to become a subject in an experiment for one year. Thus, he begins his life as a high school student once more.
20. Qualidea Code
The story takes place in a world where people continue their war against the "unknown"—the enemy of humanity. Children who have been evacuated to a cold sleep facility during the invasion by the "unknown" several decades ago wake up from their slumber and learn that their bodies developed some supernatural forces. In order to protect the country from the "unknown" emerging from the Tokyo bay gate, the boys and girls wage battles in the defense the cities of Tokyo, Kanagawa, and Chiba.
21. NEW GAME!
The story takes place in a world where people continue their war against the "unknown"—the enemy of humanity. Children who have been evacuated to a cold sleep facility during the invasion by the "unknown" several decades ago wake up from their slumber and learn that their bodies developed some supernatural forces. In order to protect the country from the "unknown" emerging from the Tokyo bay gate, the boys and girls wage battles in the defense the cities of Tokyo, Kanagawa, and Chiba.
22.  D.Gray-man Hallow
Toward the end of the 19th century, Allen Walker officially joins the organization of Exorcists that destroy the beings known as Akuma; mechanic weapons made by the Millennium Earl with the suffering souls of the dead. Allen has both a cursed eye and an anti-Akuma weapon as an arm, bearing the power of "Innocence," a gift given to him as an apostle of God. Allen, along with his fellow Exorcists must put a stop to the Millennium Earl's ultimate plot that could lead to the destruction of the world and all who live on it.
23. Drifters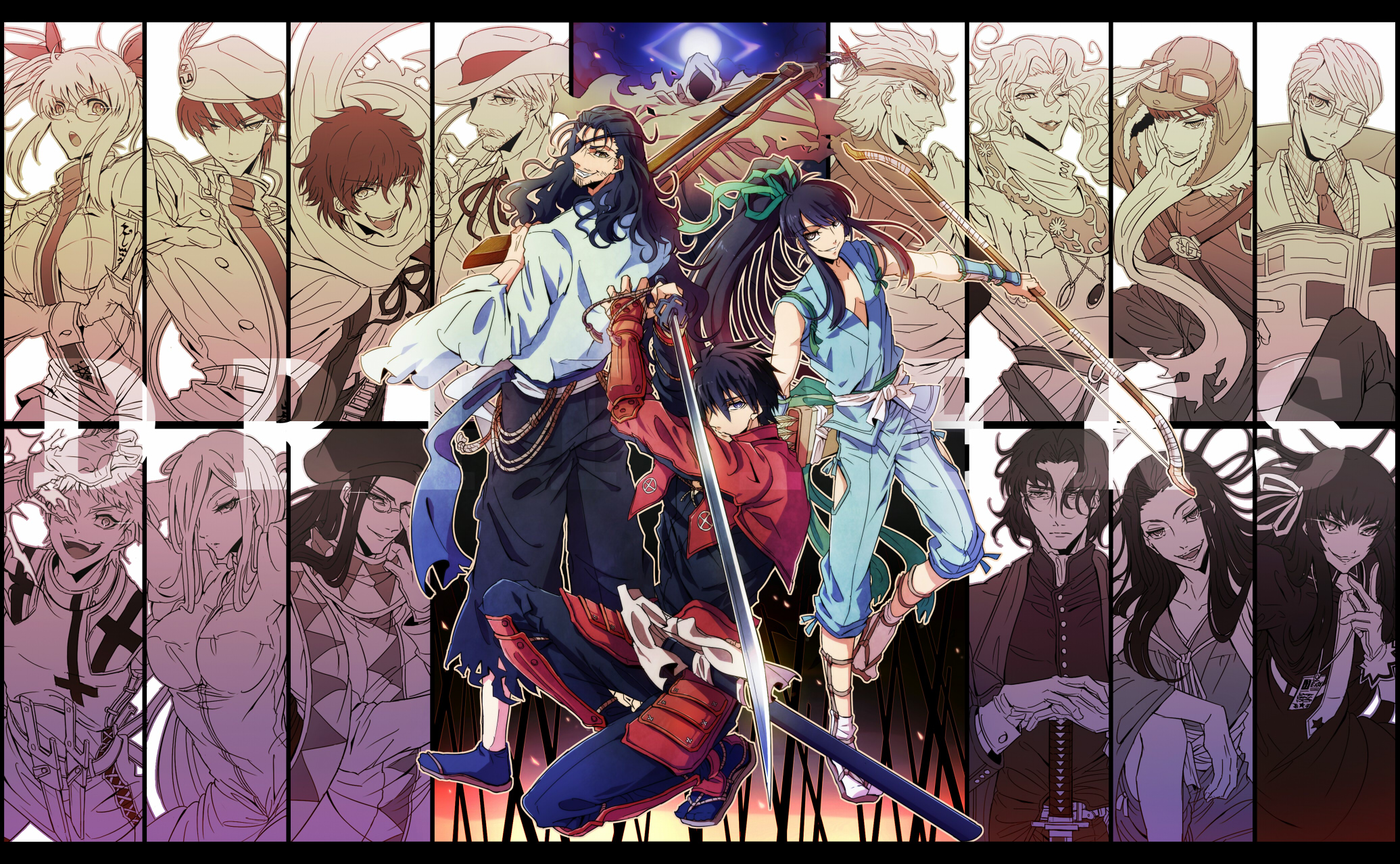 Shimazu Toyohisa, whilst involved at the Battle of Sekigahara, manages to mortally wound Ii Naomasa, but is critically wounded in the process. As he walks from the field broken and bleeding, Toyohisa finds himself transported to a corridor of doors, where a bespectacled man at a desk waits for him. This man, Murasaki, sends Toyohisa into the nearest door where he wakes up in another world. There, Toyohisa meets other great warriors like him who have been transported as well, to be part of a group known as "Drifters."
24.  B-PROJECT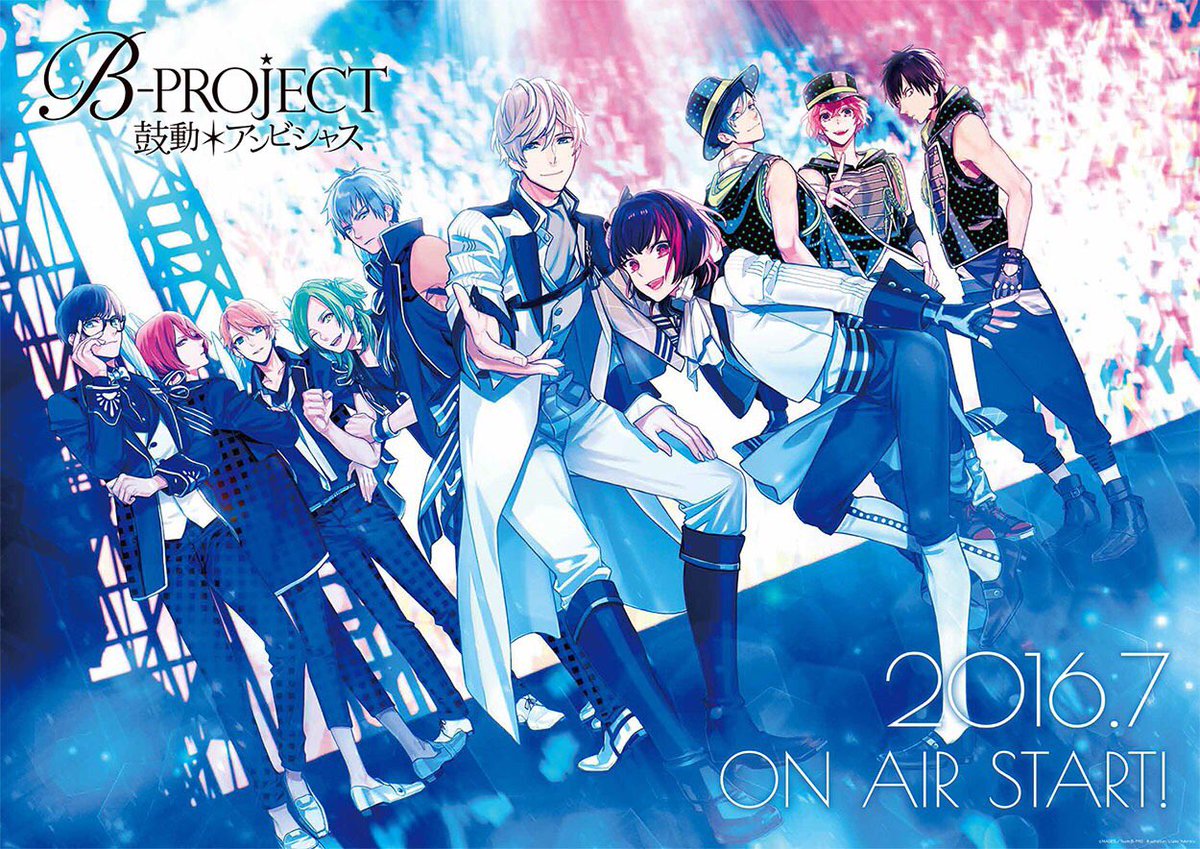 The anime's story follows Tsubasa, a new hire in the A&R department of the major recording company Gandala Music. Tsubasa is immediately assigned to oversee the idol unit "B-PROJECT," which is made up of three idol groups: Kitakore, THRIVE, and MooNs. This is Tsubasa's first job, and she gets involved in various incidents and accidents as she deals with this group of young men who each have their own differing personalities.
25.  The Seven Deadly Sins
The Seven Deadly Sins were once an active group of knights in the region of Britannia (ブリタニア Buritania), who disbanded after they supposedly plotted to overthrow the Liones Kingdom (リオネス王国 Rionesu Ōkoku). Their supposed defeat came at the hands of the Holy Knights, but rumors continued to persist that they were still alive. Ten years later, the Holy Knights staged a coup d'état and captured the king, becoming the new, tyrannical rulers of the kingdom. The third princess, Elizabeth, then starts out on a journey to find the Seven Deadly Sins and enlist their help in taking back the kingdom.
26.  Accel World: Infinite∞Burst
In 2046, many aspects of life are carried out on a virtual network. No matter how advanced the time becomes, however, bullying never disappears. Haruyuki is one of the bullied students. However, one day he is contacted by Kuroyukihime, the most famous person in the school. "Wouldn't you like to 'accelerate' and go further ahead, boy?" Haruyuki is introduced to the "Accel World" and decides to fight as Kuroyukihime's knight.